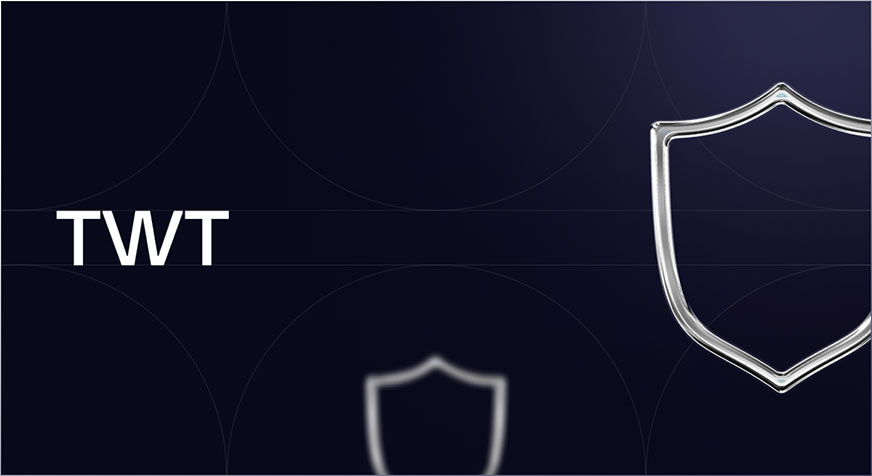 The Wallets.
One of the keywords in the blockchain / web3 / crypto
segment and other synonyms.
Who controls the gate in the world of the new digital economy = interacts
with the flow of funds of this entire economy.
The one who gains control of this will have the opportunity to form
a profitable business model and, as a result, dominance.
That's what the GATE in the form of a wallet provides.
Wallets are what underlies any interaction with web3.
The infrastructure's most universal (bottom) layer covers
all user transaction flows. Wallet is your accounts
and everything they have - assets, experience, reputation. Your wallet = your web3 / snapshot / version of you.
A non-custodial wallet allows you to store your funds (accounts)
independently, freeing yourself from the burden of centralized systems
and their risks.
However, the wallet creator decides what you see in the interface.
While not controlling your funds or limiting your actions outside
of the wallet interface, they gently direct your attention
to trusted and approved user products, receiving rewards
from partners and monetizing the user base.
So you get an ideal business model where you have
no large operating costs and have the most desirable
thing for any fintech/ social business - the flow of users.
At the same time, Wallets have a larger user
potential than cex due to:
simpler ux in all aspects
growing user desire to be their "own bank"
the ability of modern wallets to combine all the basic
functionality under one simple hood (storage, swaps, sending, interaction with web3, marketplace)
Practically all CEXs today are clunky
Interactive Brokers or other trading platforms.
Meanwhile, what we need are well-developed
non-custodial neobanks.
Before we delve into specifics and break down our diamond
into molecules, let's establish the following statement
based on the above-mentioned theses: web3 wallet is the gateway to all
user streams.
Therefore, if monetizing the user base
in web3 is possible (of course, it is!), then the wallet is the main index
for monetizing web3 users.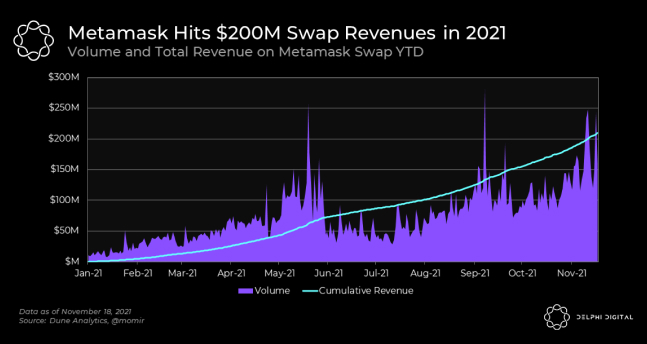 Current wallets are roughly divided into two types:
Segmented DeFi wallets, intended for nerds and geeks
MetaMask / xDeFi / Ledger / Safepal (in combination with hardware)...
User-friendly wallets, intended for the mass audience
Coinbase Wallet / Trust Wallet / Exodus / Phantom…
It is precisely the second type of wallets that has the potential to attract 100 million MAU.
Currently, the crypto community has a strong focus on MetaMask as the leader.
Like many things in crypto, this opinion is irrational, and here's why:
MetaMask is no longer a leader
in terms of new users and MAUs
MetaMask does not pay enough attention to becoming user-friendly
and breaking the ceiling (everything is terrible, starting from onboarding)
It has an extremely small market for attracting new users
in its browser extension and is practically not developing in mobile.
We will not conduct a major research on the differences between wallets. Our unconditional bet in the Wallet segment is Trust Wallet.
Below is a list of 17 reasons why we:
Buy TWT tokens starting at a price of $0.01 and accumulate them over 3 years, starting with the 2020 airdrop
TWT has a serious chance of crossing the $20 mark and, under certain
circumstances (which have not yet been formed), $50-100.
Of course, there are many more significant facts for growth,
we have only collected the most prominent ones.
So, let's start:
1.

Perhaps this is news to you, but Trust Wallet is the
TOP wallet in the crypto world, with a current user
base of over 70 million devices.
To understand the scale, the statistics of mobile installations for March
+ some adjustment for the presence of browser extension Trust Wallet + MetaMask.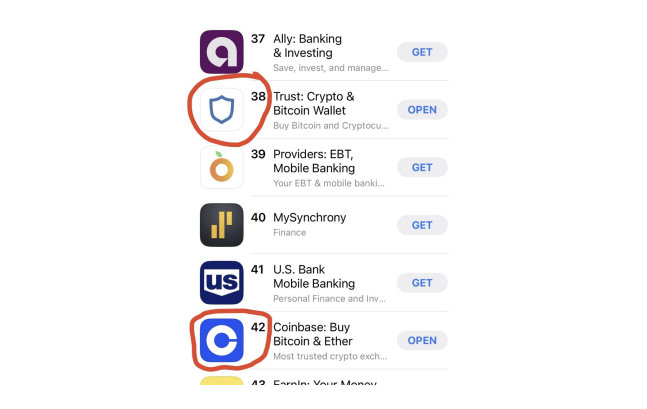 For even more clarity, we added Robinhood and Revolut.
Source: AppFigures / Sensor Tower / Data AI
Binance + 2.4 ml
Revolut + 1.6 ml
Trust Wallet + 1.3 ml
Coinbase + 0.6 ml
MetaMask + 0.55 ml
Crypto Com 0.4 ml
Coinbase Wallet 0.26 ml
Robinhood (main + wallet) 0.3 ml
Okex 0.2 ml
Kraken 0.2 ml
Exodus 0.1 ml
Ledger 0.05 ml
Notes:
about six months ago, Trust Wallet overtook Coinbase in installations.
based on trends and country analysis, there's a chance
of overtaking Binance within 12-16 months.
part of Trust's statistics are unknown due to its spread
through the APK system on Android.
For example, in the South Asian market, where TW has seen
significant growth, 98% of the market consists of Android
and third-party installations.
The population is 2 billion people.
This is formally 0.4 million per month, but in practice,
it could be as much as 1.5 million.
As of now, Trust Wallet (taking into account all available analytics for 36 months):
TOP-2 crypto project in the world in terms of new user growth (after Binance).
TOP-2 in the key market = USA (after Coinbase).
TOP-1 among any wallets and web3 products.
Based on the dynamics = fast TOP-1 crypto project
and neo-bank worldwide by audience growth
2.

Recently, Trust Wallet announced the integration of web3auth.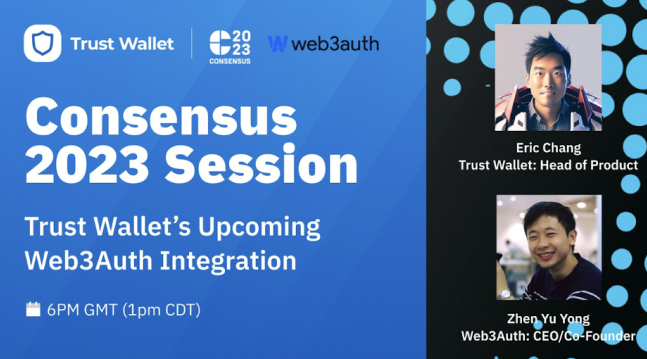 Trust Wallet is the first major wallet to switch to a simple login method,
eliminating the need to interact with seed phrase.
For us it means the following.
For every 1,000,000 new users:
MetaMask converts about 150,000 users into a full-fledged user,
while Trust Wallet converts around 600,000.
As a result, the gap within MAU will increase dramatically.
3.

All the installations that Trust Wallet is currently
receiving cost the team $0!
That means savings of approximately $5-7 million per month,
while MetaMask / Coinbase Wallet / Uniswap (the latest release)
spend significant amounts on targeted and other advertising.
If the Trust team starts simply outbidding target rates
for advertising and openly fighting against MetaMask / Coinbase Wallet / Uniswap,
then with this free bonus and the budget of Binance, they will simply drown their
competitors in blood who will not be able to outbid this rate.
4.

Trust Wallet is owned by Binance.
Binance is the leading cryptocurrency exchange in the world.
Its owner is a TOP figure in crypto.
CZ ambition is to break the barrier of 100 million users by providing a simplify Wallet solution.
What he talked about dozens of times in interviews.
For Binance, it's crucial to:
find a way to the next-gen bridgehead of active users
become the digital gold in the future of Crypto Neo Web3 1-click banking
However, achieving this goal through their primary platform is not possible.
Binance Com and US are Interactive Brokers.
A highly specialized and cumbersome place.
To achieve their goals, as confirmed by CZ,
they can only do it through Trust Wallet.

This means they need to:
actively capture the market
become the leader
occupy the top position in CMC
In addition, CZ has a clear personal desire to outdo
and overshadow Metamask, as evidenced by a series of statements.
Again, whoever controls the gates in Web3 = controls
the flow of hundreds of millions of users and their cash.
This is how it was with Binance and how it was with
CoinMarketCap when Binance acquired it.
5.

The current director of Trust Wallet is Eowyn Chen.
She is a former top manager at Binance and served as Head of Central Marketing and Growth, Global VP.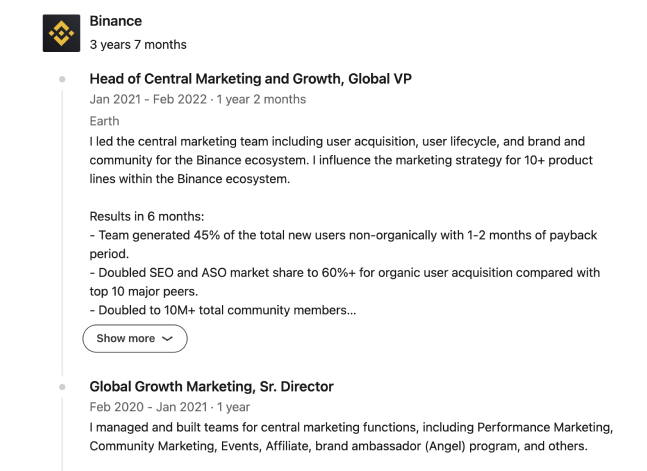 Eowyn was one of the key figures behind the revaluation
of the Binance empire and the growth of #BNB.
Since Eowyn joined in March of last year, the Trust Wallet
team has expanded almost tenfold and will soon reach
100 members (compared to the initial 13).
Furthermore, since her arrival, Trust Wallet has stood
out against the market and even hit all-time highs.
When BTC was priced at $60,000, TWT was valued at $1.3.
After the crash, BTC was priced at $17,000, and TWT was valued at $2.6.
6.

What sets Trust Wallet apart from other startups like SFP, C98, and XDEFI is the presence of a large backer, growth specialists, and a bag of money.
An endless bag of money.
This is something that is an exception.
It's like having an older brother who gives you an unlimited budget
to capture the market and make a splash.
7.

The #TWT token and the ability to buy it is a matrix failure in itself.
It was launched into the market as an experiment by the company's first CEO, even before Eowyn arrived.
The token is tightly held, with most of it owned by Binance, and was only distributed through airdrops. Greedy funds are a thing of the past.
Utility?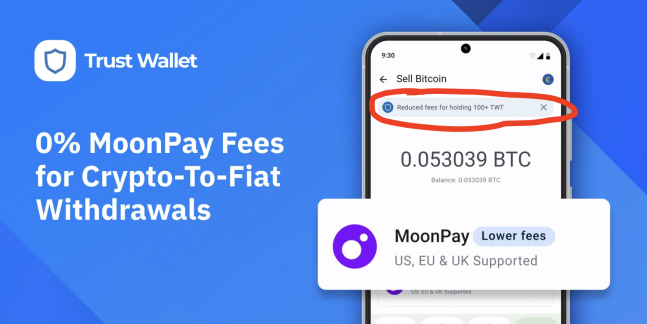 Discounts on:
purchase
cash out
swaps (in the future)
developer fees for listings
marketplace
and so on down the list...
All this is already being integrated very smoothly in test mode.
Seems like nothing interesting, just the usual stuff?
Well, multiply it by tens of millions of users.
8.

TW is one of the few legitimate projects that have a real foundation of tens of millions of users.
When we launch in the US, where Trust has about 20% of its users, and gain access to institutional education, there's nothing stopping us from gaining support for TWT from major holders.
9.

The cost of growing to $10 for Binance will be $0.
What will they get in return?
Leadership in Wallets / Web3 / Neo Crypto Banks in terms of tokens.
Why wait for the listing of MetaMask (#MASK) when we're already leading here and now?
10.

Binance has contracts with influencers who have signed up to advertise Binance products.
Their combined audience is over 1 billion subscribers.
Trust Wallet is currently the most important project.
Let's make logical connections.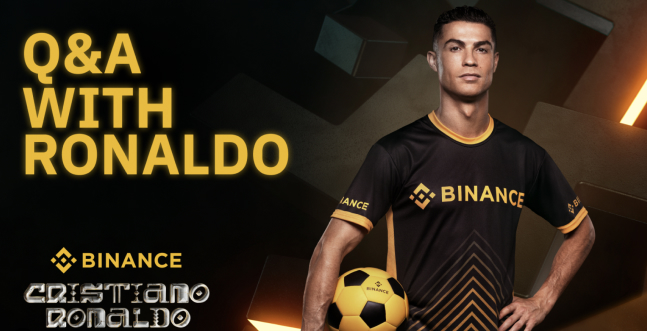 11.

Binance doesn't have time to waste.
Action is needed now.
This is an important factor because competition in wallets/web3 is slowly but surely growing.
Uniswap has released a mobile wallet and is actively spending its budget on marketing (TOP-20 Coinmarketcap).
Worldcoin has raised more than $100 million and ready to become a web3 gate (+- TOP-15 Coinmarketcap).
12.

Let's compare Trust Wallet with Binance:
Trust Wallet has around 15 million monthly active users (MAU).
Binance has 30 million MAU.
(But the number is changing in favor of Trust Wallet.)
Meanwhile:
15 million are serviced by only 90 people.
30 million are serviced by 8,000 people.
13.

Local markets are being actively developed.
There is a segmentation process going on.
The rise of South Asia.
There is a huge advantage in terms of compliance and regulation when you can attract users from anywhere in the world without any questions.
14.

For comparison, the market cap of Revolut with current discounts is $25 billion. MAU is 15 million.
With a х2-х3 cryptocurrency market growth multiplier, at least to the ATH BTC, it's easy to see the potential.
Yes, it's not fair to compare equity with a token.
But we all remember the race of capitalizations #BNB vs #COIN
15.

A possible integration with Twitter is likely once the company begins playing in Web3 (and it can't avoid it).
This is analogous to Trust Wallet's early integration into Meta products.
If Elon Musk uses market solutions rather than developing his own Wallet Core,
there is simply no way to avoid integrating with TW.
+ Additionally, it's worth noting that Binance is an investor in Twitter,
+ and CZ is presumably on good terms with Musk.
While this point is purely theoretical, it is based on strong logical connections.
A press release worth hundreds of millions of dollars could be the result.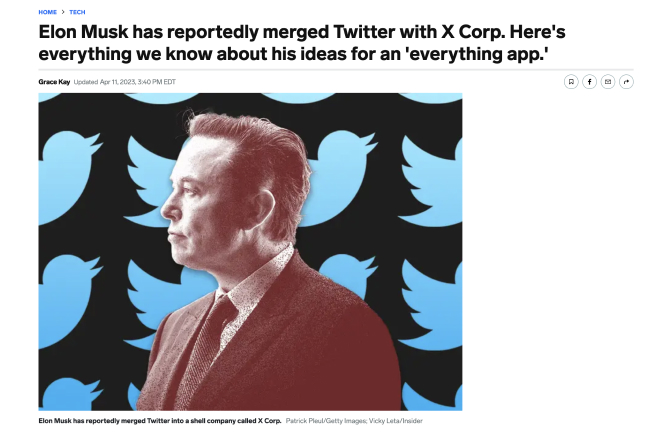 16.

For 99% of speculators, all of this is not obvious.
The TWT story is currently in stealth mode.
People like meme coins, and they want fast and free (in terms of research level) money.
17.

Even in a very conservative format, TWT's goals, including surpassing Uniswap, are in the range of securing a $20 price and reaching the TOP 20 on CoinMarketCap.
If the team can break through the web3 user ceiling, secure integration with Twitter, and receive market support, the price could be measured in tens of dollars.
Ultimately, when TW reaches 70 million MAU, it could be considered a TOP 10 CMC and come close to BNB.
All of this is supported by reliability that is formed around:
Binance's reputation
The fundamental support of a huge number of users
A working business model
Huge financing
The best market making
All of this leads us to a future blue chip that can be held for a long time, waiting for a reevaluation rather than a pump-and-dump.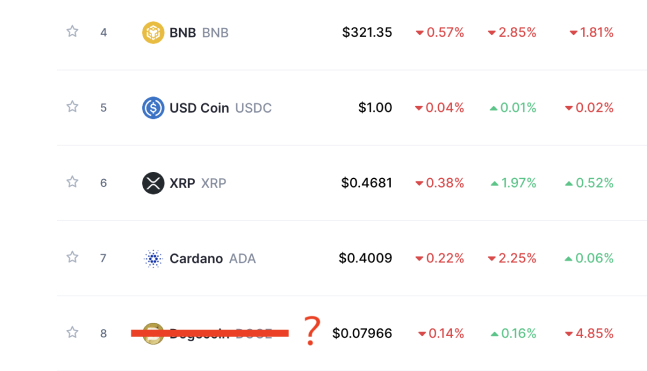 Thank you for reading this research.
It's not a financial advice.
This is ten percent luck
Twenty percent skill
Fifteen percent concentrated power of will
Five percent pleasure
Fifty percent pain
And a hundred percent reason to remember the name
Follow us on Twitter:
@ax1vc
AX1 Research © Copyright 2023. All rights reserved.